by
,
, and
President assailed Comey as 'showboat' and 'grandstander'

Russian probe will continue unimpeded, interim FBI chief says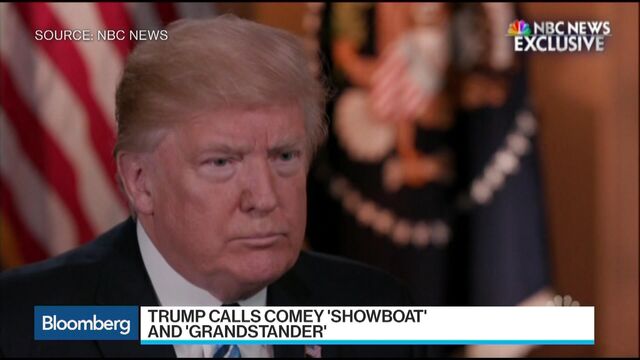 President Donald Trump took his fight with the FBI to a new level, raising the specter Friday that he may have taped his conversations with Director James Comey before firing him.
"James Comey better hope that there are no 'tapes' of our conversations before he starts leaking to the press!" Trump tweeted.
Trump also suggested he may cancel future press briefings and instead "hand out written responses for the sake of accuracy" because "as a very active President with lots of things happening, it is not possible for my surrogates to stand at podium with perfect accuracy!"
The messages followed Trump on Thursday calling Comey a "showboat" and a "grandstander" and insisting the bureau's Russia probe would show he did nothing wrong. He said he'd sent a letter to a top Republican lawmaker declaring he has no business dealings there.
Yet try as he might, Trump cannot escape Russia as congressional probes push ahead and the nation's top law-enforcement agency shows no sign of backing down in the face of the president's criticism.
Comey's temporary replacement, Andrew McCabe, made clear that he liked and respected Comey, had no intention of briefing Trump on the investigation into possible ties between Russia and Trump's campaign as long as he held the job and considered it one of the most important probes underway at the Justice Department. 
McCabe, a 21-year-veteran of the bureau, made an effort during Senate testimony Thursday to dispute White House assertions that his former boss had lost the trust of FBI rank-and-file.
"Director Comey enjoyed broad support in the FBI and still does to this day," McCabe said Thursday before the Senate Intelligence Committee. He said that working with Comey was "the greatest privilege and honor of my professional life."
Trump's Assurances
Trump seemed to acknowledge the Russia probe might touch people once close to him, taking pains to point out Thursday, in an interview with NBC News, that Comey assured him three times he's not in trouble — but offered no such assurance regarding others in his campaign.
"I know that I'm not under investigation. Me. Personally," Trump told NBC's Lester Holt. "I'm not talking about campaigns. I'm not talking about anything else."
He went on to say that he had sent a letter to Republican Senator Lindsey Graham, certifying that he had no business interests in Russia: "I have no investments in Russia, none whatsoever."
The clash between the president and the nation's premier law enforcement agency continued a week of high drama in Washington. Fired Acting Attorney General Sally Yates testimony May 8 raised new questions about why the White House waited 18 days to dismiss National Security Adviser Michael Flynn from his post after he misled officials — including Vice President Mike Pence — about his conversations with Russia's ambassador to the U.S.
Justice Department Memo
As it kept shifting explanations for how and why Comey was fired, the White House at one point cited a memo written by deputy Attorney General Rod Rosenstein, which laid out the argument against Comey without calling for his dismissal. Yet Trump dispatched with that explanation, saying he would have fired the director regardless of what his top Justice Department officials said.
Caught in the middle, career FBI and Justice Department officials are trying to weather the turmoil caused by Comey's firing, focusing on doing their work to stop terrorist plots, bust crime rings and capture sexual predators, according to interviews with several current and former officials.
But the events of this week have thrust agents and investigators unaccustomed to being in the public spotlight into the latest political crisis of Trump's four-month-old presidency.
Breach of Norms
Trump's justifications for dismissing Comey have raised key questions about possible politicization of law enforcement. In a May 9 letter to Comey, Trump said the director had on three occasions assured him that he wasn't under investigation. If true, that would be a breach of FBI norms against discussing ongoing cases.
McCabe, under questioning by Republican Senator Richard Burr on Thursday, said he couldn't comment on any conversations Comey "may have had with the president." McCabe added that it wouldn't be standard practice to tell someone they weren't the target of a probe and he promised not to do so for Trump or other White House officials.
And contrary to the White House's assertions, officials interviewed by Bloomberg say there is resentment among a swath of agents that so much upheaval has been stirred within the bureau. Even agents who disagreed with some of Comey's key decisions, such as his handling of the Clinton probe, respected him for his defense of the bureau, they said.
The discord of the past week now risks undermining the bureau and the FBI's efforts to be politically independent, just as it pursues probes into Russia's meddling in the 2016 election and potential ties to Trump associates.
"An impartial and independent prosecutor's office is critical to sustaining a vibrant democracy and upholding the rule of law," said Jimmy Gurule, a former assistant U.S. attorney general who worked under three Republican presidents and is now a professor at Notre Dame Law School.
New FBI Chief
Amid the political uproar, the administration tried to show Thursday it was conducting business as usual. It has started the process to name another interim FBI chief, with Attorney General Jeff Sessions and Rosenstein interviewing candidates.
Under consideration are Representative Trey Gowdy, a South Carolina Republican and former federal prosecutor who led the Benghazi investigation; Alice Fisher, assistant attorney general for the Justice Department's criminal division for President George W. Bush; Mike Rogers, a former Republican congressman from Michigan who led the House Intelligence panel, and former New York City police Commissioner Ray Kelly, according to an official who spoke on condition of anonymity.
At the White House, Trump homeland security adviser Tom Bossert appeared at the start of the daily news briefing to discuss an executive order on cybersecurity the president had just signed. But when he stepped aside for spokeswoman Sarah Sanders, the focus quickly turned back to Trump and Comey.
Sanders admitted that she hadn't asked Trump specifically when he made the decision to dump Comey before she provided a timeline of events to reporters in a briefing the day before. She claimed that she personally had heard from "a large number of individuals" at the FBI who supported the firing.
And she insisted that the details didn't matter.
"It's very simple," Sanders said. "The president decided to fire Director Comey. Nobody else gets to make that decision, and he made it. He stands by it, as so do the rest of us."
Political Pressure
Back on Capitol Hill, Democrats questioned whether Comey was let go because of the Russia probe. McCabe promised to tell lawmakers if he comes under any political pressure that interferes with the inquiry.
Trump suggested his mind was made up. In the NBC interview, he said he'd already reached the conclusion that "this Russia thing with Trump and Russia is a made-up story."
"The Fake Media is working overtime today!" Trump tweeted Friday.
"Again, the story that there was collusion between the Russians & Trump campaign was fabricated by Dems as an excuse for losing the election."
McCabe, making his first public appearance since taking over the bureau, assured lawmakers that he won't allow the probe to be cut short, especially for political reasons.
"The investigation will move forward, absolutely," he said on Thursday. "It is my opinion and belief that the FBI will continue to pursue this investigation vigorously and completely." The FBI's workforce he said, is a "fiercely independent group."